Basque CH invites you "Use of Artificial Intelligence in manufacturing processes" | 25 October 2021 – 12 PM CEST
Basque CH invites you to the online event "
Use of Artificial Intelligence in manufacturing processes"
Artificial Intelligence is here, not only to stay but also to transform manufacturing as known up to date. An industrial shopfloor is a really complex environment, which requires high specialisation and experience to master. Digitalisation and Industrial IoT started a new era for industrial processes, and data exploitation by means of AI techniques has proved to be reliable and very powerful. However, there are yet challenges to overcome, both technical and personal. Towards an intelligent organisation, human involvement is the key.
Speaker
Susana Pérez Sánchez – Factory Learning team leader – TECNALIA RESEARCH & INNOVATION
Telecommunications Engineer from the University of Deusto in 2002. After a one-year stay as an associate researcher at Telefónica I+D, Madrid, she joined the Faculty of Engineering of the University of Deusto as a lecturer-researcher, combining it with the Master's programme in Computer Science. In 2008 she joined the Telecommunications unit of TECNALIA (until 2011, Robotiker), working on research projects focusing on the Future Internet, virtualisation of wireless and non-infrastructure-based networks.
Since 2011 she becomes a project manager at TECNALIA with several years of experience in the following areas of expertise: Wireless network protocols, ad-hoc communications in mesh networks, opportunistic and DTN (Delay Tolerant Networks), indoor location systems, among others.
In 2014 she joined TECNALIA's Industry and Transport Division to design and manage projects in the area of Digitalisation and Smart Systems. She is currently responsible for the Factory Learning team, focused on enabling technologies for Industry 4.0, both in digitalisation and the application of Artificial Intelligence in industry and production processes.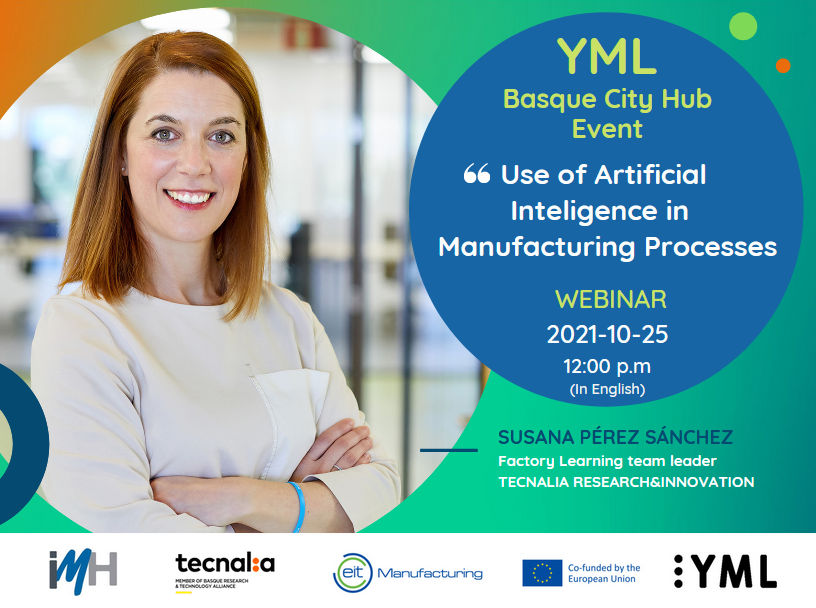 Agenda
Monday, 25th October 2021
12:00-13:00
online
Programme
12:00 Welcome, Xabier Uriarte, Tecnalia.
12:05 Exposition, Susana Pérez Sánchez,  Tecnalia.
Industrial manufacturing environment: complexity, drivers and challenges.
How can AI benefit this complex environment and the industry as a whole?

Current situation: Digitalisation and Industry 4.0 in recent years.
Challenges are still unresolved, and not only the technological ones.

How can we approach our customers' needs?

Methodology, stages, strategy.
Some success stories.

What's next: key messages for the upcoming Industry 5.0: insights, R&D lines of work.
12:40 Coments/Questions