YML Gothenburg City Hub – Seminar Series "Beyond Buzz Words" in Manufacturing: #1 Smart Maintenance
Do you want to be part of the discussion on the future of the manufacturing industry? 
YML Gothenburg City Hub invites you to the first event of its Seminar Series where we go beyond the Buzz words in Manufacturing. The first event will be focused on Smart Maintenance. You will have the opportunity to listen to and discuss with experts from industry and academia.
May 18, 2021, at 12.00 – 12.45
The event will be held in English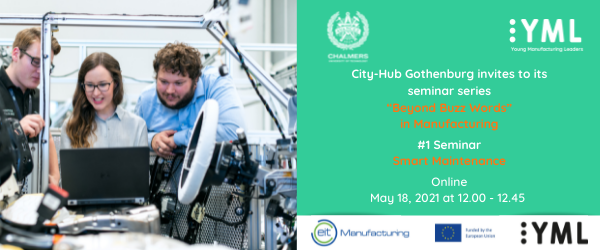 Agenda
12.00 – 12.05: Introduction YML, City Hub Gothenburg
12.05 – 12.25: Presentation about Smart Maintenance by Jon Bokrantz, Researcher at the division of Production Systems, Department of Industrial and Materials Science
12.25 – 12.35: Discussion with an Industry expert about how this topic relates to the industry today
12.35 – 12.45: Q&A