Participate in the YML European Innovation Cont
est: YML European Innovation Contest
Our Future: ​Youth in action for Industry 5.0
Members of the Young Manufacturing Leaders are invited to participate in a European Innovation Contest – Our Future: Youth in action for Industry 5.0
Applicants will be evaluated by members of the Young Manufacturing Leaders organization.
The contest encourages to become a problem solver and a change maker to help industries improve their operations, products, and services toward sustainable development.
Applicants are invited to submit a 2 minute video presentation in English describing a challenge that industries are facing today and present their own solution, its benefits, costs, and future progress to get the chance to:
Get an exclusive invitation to the World Manufacturing Forum 2023 that will take place in November in Bergamo (Italy).
Receive an official awarding certificate in a dedicated ceremony during the Young Manufacturing Leaders Main Event.
During the awarding ceremony, get a special prize from Women in 3D Printing that is partnering up with the YML Network.
By submitting the application to the YML European Innovation Contest – Our Future: Youth in action for Industry 5.0 agree to the contest privacy policy.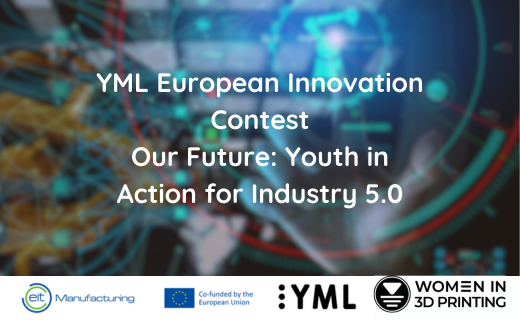 Videos can be submitted until 29th September 2023 at 11:59 PM CEST using the official submission form.
You can also join forces with friends. Submissions can be made by an individual or a team up to 3 members.
For more information, please refer to the contest rules.
The contest is open to all YML members.