YML Gothenburg City Hub – Seminar Series "Beyond Buzz Words" in Manufacturing: #2 Digital Twins
Do you want to be part of the discussion on the future of the manufacturing industry? 
Do you want to be part of discussing the future of manufacturing? 
SAVE THE DATE AND JOIN US ON:
October 13th, 2021 at 12 – 1 PM (CEST)
YML Gothenburg City Hub invites you for the second seminar where we go beyond buzz words in manufacturing. This event will be held on "Digital Twins" where you have an opportunity to listen to and discuss with experts from industry and academia.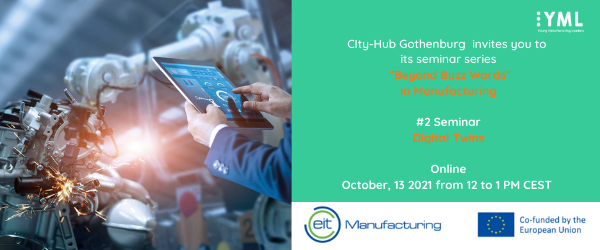 Agenda
12.00 – 12.05 PM: Introduction YML, City Hub Gothenburg
12.05 – 12.25 PM: Presentation from Maja Bärring, PhD, about Digital Twins. She's researching on the value of data itself and for decision support in production
12.25 – 12.40 PM: Presentation from Johanna Sigvardsson, Consultant in assembly and production flow at Virtual Manufacturing AB
12.40 – 12.50 PM: Discussion with Johanna and Maja
12:50-1 PM: Q&A
Event will be held in English and you have the opportunity to discuss your thoughts and questions with experts.