YML Gothenburg City Hub – Seminar Series – "Beyond Buzz Words" in Manufacturing, #3 The Future Business Model: Servitization
Do you want to be part of the discussion on the future of the manufacturing industry? 
SAVE THE DATE AND JOIN US ON:
November 26, 2021 at 12 – 1 PM (CET)
Location is Chalmers Campus Johanneberg.
Exact building location will be sent after confirmation.
Additional zoom-link for those who want to join from home will be sent out later.
YML Gothenburg City Hub invites you for the third seminar of many to come where we go beyond buzz words in manufacturing. This event will be held on "The Future Business Model: Servitization" where you have an opportunity to listen to and discuss with experts from industry and academia.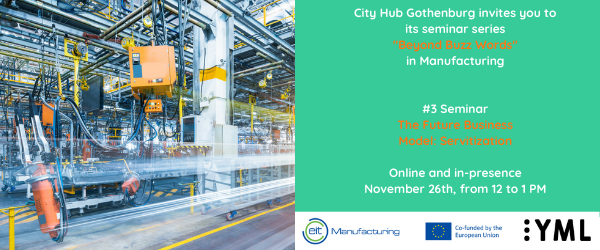 This time we have decided to move ahead with a more spirited hybrid session, to meet and mingle together!
Note: Bring your appetite along for some lunch wraps! Please answer on this invitation with a comment if you will be on site and if you have any special food preferences.
Agenda
12.00 – 12.05 PM: Introduction YML, City Hub Gothenburg
12.05 – 12.25 PM: Presentation from Clarissa Alejandra González Chávez, PhD student at the division of Production systems. Her research focuses on Product-Service Systems from a perspective which fosters environmental and social sustainability.
12.25 – 12.40 PM:Presentation from Industrial experts on using Servitization as an operations strategy
12.40 – 12.50 PM: Discussion with Clarissa and Industrial experts
12:50-1 PM: Q&A
Event will be held in English and you have the opportunity to discuss your thoughts and questions with experts.