Participate in the YML Innovation Contest – Made at Home and get the chance to win a 3D printer!
Members of the Young Manufacturing Leaders are invited to participate in a European Innovation contest in design for 3D printing by submitting a descriptive video presentation about their designed and printed items.
Submit a video and 3D model of your idea. The entries will be judged based on the design of the object, its use of 3D printing technology and evaluated by members of the Young Manufacturing Leaders (YML) organization.
You will get the chance to win an Original Prusa I3 MK3S+ 3D printer. The winner in second place will receive Original Prusa Mini+ 3D printer, and Prusament – Premium-quality filament will be given to the winner in third place. Prusa Research is a Czech company producing open-source 3D printers and the second largest manufacturer in the world.
By submitting the application to the YML Innovation Contest – Made at Home, applicants agree to the contest privacy policy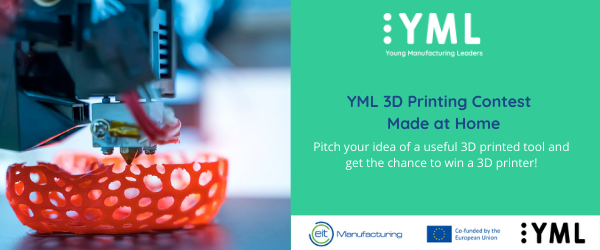 Video and 3D models can be submitted until 20th September 2021 at 11:59 PM CEST using the official submission form
The contest is open to all YML members.