YML Main Event – 21 October 2021 from 10 AM to 12:30 PM
You can join the livestreamed event and have the chance to get to know more about the YML Network, its members and their impact on the future of manufacturing.
The event will consist of Keynote speeches and roundtables on two core topics for the new manufacturing era: Young Entrepreneurship & Innovation and Inclusivity & Gender Balance in Manufacturing.
SAVE THE DATE!
21 October 2021 | 10 AM – 12:30 PM
The event will be live streamed from the beautiful Villa Erba at Lake Como – Italy.
The 2021 World Manufacturing Forum Digital Technologies as Enablers for Circularity will focus on key emerging topics relevant to the long term resilience of Manufacturing. A particular focus will be given on the significance of the circular economy and how digital technologies are deployed to achieve environmental sustainability in manufacturing.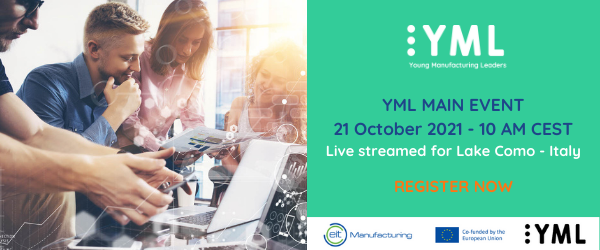 Discover the Program
10-10:05 AM CEST: Welcome
Marco Taisch, Professor of Digital and Sustainable Manufacturing at Politecnico di Milano and Scientific Chairman of the World Manufacturing Forum
---
10:05-10:10 AM CEST: Introduction 
Paola Fantini, Director of Education – EIT Manufacturing
---
10:10-10:30 AM CEST: Keynote Young Entrepreneurship and Innovation  
Giorgia Munari, President of Gruppo Giovani Imprenditori dell'Unione degli Industriali della Provincia di Varese
---
10:30:11:05 AM CEST: Roundtable YMLs as Innovators 
Alessio Fino, Bachelor's Degree Student – Politecnico di Torino
Felix Ferk, Master's Degree Student -Technical University Braunschweig
Andrew Dickson, Principal Investigator & Research Engineer – University College Dublin
Jacopo Farina, Strategic Partnerships Expert – Vodafone Business Italy
---
11:05-11:25 AM CEST: Awarding – YML Innovation Contest 3D Printing
Libor Beránek, Director of the Department of Machining, Process Planning and Metrology – CTU in Prague
---
11:25-11:35 AM CEST:  Keynote Inclusivity and Gender Balance in manufacturing 
Carlotta Dainese, Digital Strategy & Innovation Lab Director – Prysmian Group
---
11:35 AM -12:10 PM CEST: Roundtable Young Inclusive Leaders
Greta Braun, PhD student – Chalmers University of Technology
Ludmila Růžičková, PhD student – Czech Technical University in Prague
Elena Fernández Calvo, Bachelor's Degree Student – IMH University
Leonor Ramos do Bem Cónego, Research fellow – Faculty of Engineering of University of Porto
---
12:10-12:20 PM CEST: Awarding – YML Contest for the 2021 WM Report  
Mark L. Casidsid, Lead, Scientific and Strategic Projects – World Manufacturing Foundation
Giulia Dimonopoli, Institutional & Business Relations – World Manufacturing Foundation
---
12:20-12:25 PM CEST: Closing