YML Main Event 
25 November 2022 |

2: 15 PM to 4 PM CET
You can join the YML Main Event and have the chance to get to know more about the YML Network, its members and their impact on the future of manufacturing.
The session represents a chance for the members of the network to discuss among themselves and with the partners of the project and inspiring representatives of the manufacturing world, while enlarging their network of contacts.
The members of the network will have a chance to discuss a wide range of topics that are relevant to their experience and expertise. The focus is on manufacturing, in particular sustainability, innovation, and inclusivity.
The event will be live from Porsche Experience Center Franciacorta.
The 2022 World Manufacturing Forum Redesigning Supply Chains in the new Era of Manufacturing  will focus on the main trends driving the new manufacturing scenario and their impact on the redesign of manufacturing supply chains. The key macro-themes to be discussed include value chain resiliency, local and global ecosystems, new roles of SMEs within the redesignation of supply chains, workforce shortages, skills gaps, lessons learned from the Covid-19 pandemic, geopolitical landscape, and the digital and sustainable transition in manufacturing. Key enablers in manufacturing transformation such as the role of digital technologies, augmented workforce and business model innovation will also be tackled.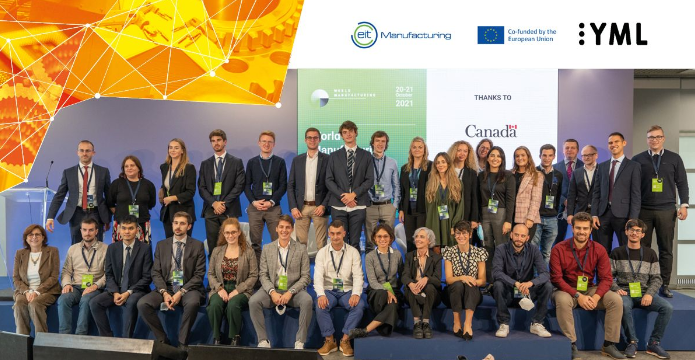 Discover the Programme
14:15 –14:20
WELCOME
Marco Taisch (Scientific Chairman, World Manufacturing Foundation and Professor,
Politecnico di Milano)
14:20 –14:25
WELCOME
Carolina Torregrosa Gallo (Education Program Manager, EIT Manufacturing)
14:25 –14:40
YOUTH AND THE FUTURE OF MANUFACTURING
Diego Andreis (President, World Manufacturing Foundation)
14:40 –14:50
AWARD CEREMONY OF THE YML CONTEST FOR THE 2022 WM REPORT
14:50 –15:05
KEYNOTE SPEECH
Valeria Tirelli (President & CEO, AIDRO)
15:05 –15:15
THE "ADDITIVE MANUFACTURING FOR SPACE APPLICATIONS" FOCUS GROUP
Alessio Fino, Oìsin Gavigan and Evan Winterlich (Young Manufacturing Leaders Members)
15:15 –15:50
THE FUTURE IS NOW: BECOMING A MANUFACTURING CHANGEMAKER
YML Learning Path on Creativity, Innovation & Entrepreneurship
Leonor Cónego (Research fellow, Faculty of Engineering of University of Porto)
YML LEARNING PATH ON EQUALITY, DIVERSITY AND INCLUSION
Matthew Holloway (University College Dublin)
ROUNDTABLE
Leonor Cónego (Shaping), Greta Braun (Deep Tech Talent Initiative), Clarissa
Gonzalez (Engineering Without Borders), Silvia Mozzi (EITM Teaching&Learning
Factories), Anna Girardello (EITM Master School)
15:50 –16:00
AWARD CEREMONY OF THE YML SUSTAINABLE MANUFACTURING
INNOVATION CONTEST – LCA ACROSS EUROPE
16:00
CLOSING