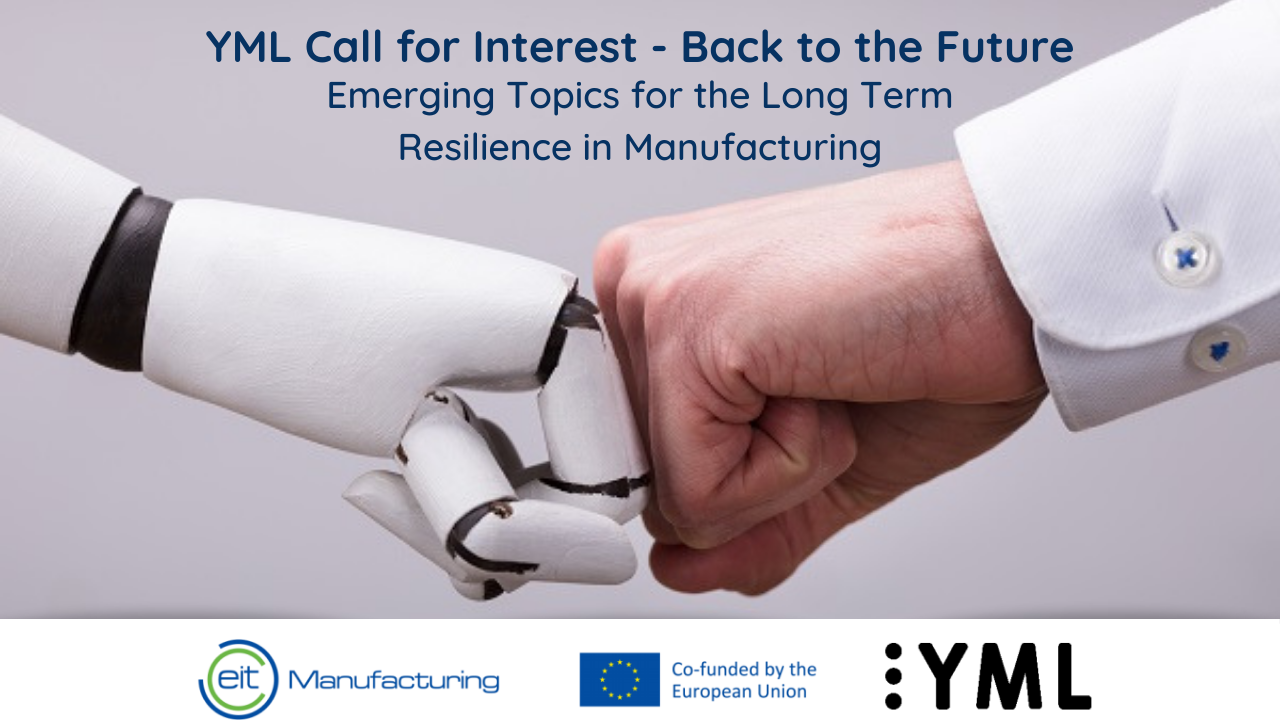 In April 2021 the YML Network launched a Call for Interest to its members to take part in the initiative Back to the Future – Emerging Topics for Long-term Resilience in Manufacturing promoted by the WM Foundation.
Back to the Future (BtF) is a yearly initiative by the WM Foundation focused on investigating issues that are relevant to the manufacturing community. The initiative is based on several thematic Focus Groups, each composed of a Group Leader from the WMF network and other international contributors. Each Focus Group produce a thematic whitepaper to be presented at the WM Forum. In 2020, the first edition focused on the impacts of the Covid-19 Pandemic on the manufacturing sector and the key recommendations to promote recovery. In 2021, the second edition of the project is focused on emerging themes relevant to the long-term resilience in the manufacturing sector.
In 2021, the BtF initiative involved nine focus groups, each discussing a specific topic relevant for building long-term resilience in manufacturing. Over 130 experts from companies, industrial associations, universities and research institutions, policy-making institutions, non-governmental organisations, and international institutions from more than 35 countries contributed to the initiative.
During the 2021 World Manufacturing Forum Day 1, on 20th October 2021, the key results of the Initiative were presented and discussed by Professor Marco Taisch, Scientific Chairman of the World Manufacturing Foundation, together with the BtF Group Leaders.
Selected YML Network members contributed to the discussion of the Focus Groups and supported the drafting of the thematic whitepapers. The nine final whitepapers provide manufacturing stakeholders with innovative recommendations to ensure their ability to thrive.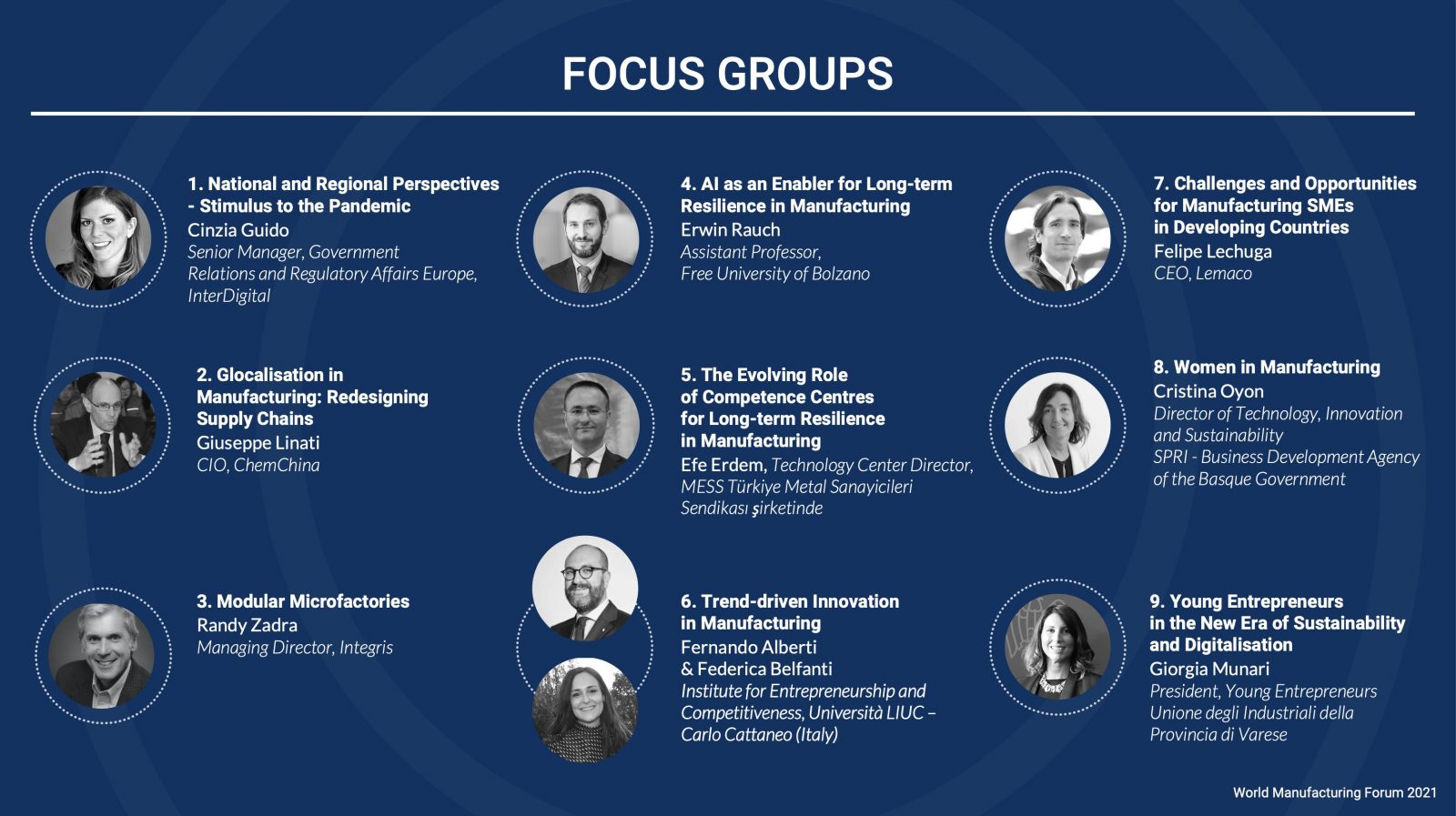 The whitepapers and the names of the YML contributors are listed here below:
1. National and Regional Perspectives – Stimulus to the Pandemic – Led by Cinzia Guido, InterDigital
Giacomo Ferrario, MSc. Management Engineering Student at Politecnico di Milano – CH Milan
2. Glocalisation in Manufacturing: Redesigning Supply Chains –

Led by Giuseppe Linati,

ChemChina
Ahmed Mahmoud Diab, Masters Student in Automation and Control at Politecnico di Milano – CH Milan
Daniel Knüttel, Research Engineer at Inspire AG Member – CH Milan
Filipe Sarmento, PhD Student at Aston University Member  – CH Gothenburg
3. Modular Microfactories – Led by Randy Zadra, Integris
Jacopo Farina, Strategic Partnerships Expert at Vodafone Business Italy – CH Milan
Brian Jeong, Senior Shop Supervisor at Autodesk – CH Milan
Andrew Dickson, Principal Investigator at University College Dublin – CH Dublin
4. AI as an Enabler for Long Term Resilience in Manufacturing – Led by Erwin Rauch, Free University of Bozen-Bolzano
Xin Shen, Student at RWTH Aachen – CH Braunschweig
Aoife Doyle, Commercialisation Researcher at I-Form Advanced Manufacturing Research Centre  – CH Dublin
5.The Evolving Role of Competence Centres for Long Term Resilience in Manufacturing

–

Led by Efe Erdem, MESS Türkiye Metal Sanayicileri Sendikası şirketinde
Italo do Valle Tomaz, Postdoctoral Researcher at SEAM Research Center – CH Porto
Greta Braun, PhD Student at Chalmers University – CH Gothenburg
Carlo Parmigiani, Process Engineer at LU-VE Group – CH Milan
6. Trend-Driven Innovation in Manufacturing -Led by 

Fernando

Alberti & Federica Belfanti, LIUC Università Cattaneo
Jacopo Farina – CH Milan, Strategic Partnerships Expert at Vodafone Business Italy
7. Challenges and Opportunities for Manufacturing SMEs in Developing Countries – Led by Felipe Lechuga, Lemaco
Kirill Sukhochev, Student at Politecnico di Milano  – CH Milan
Sathish Kasilingam, PhD Student at West Virginia University – CH Milan  
8. Women in Manufacturing – Led by Cristina Oyon, SPRI Group – Basque Government
Faraneh Torabi, MSc. Student of Management Engineering at  Politecnico di Milano  – CH Milan
Giulia Artibani, Head of Communications at EFFRA – CH Braunschweig,
Tommaso Catalini, Digital Process Graduate Program at Ariston Thermo – CH Milan
9.Young Entrepreneurs in the New Era of Sustainability and Digitalisation – Led by Giorgia Munari, La Termoplastic F.B.M., Gruppo Giovani Imprenditori Varese
David Barbosa, Project Manager at Fan3D – CH Porto
Shashank Sharma, MSc. Student at Politecnico of Milano – CH Milan
Alessio Fino, Bachelors Degree Student at Politecnico di Torino – CH Milan