YML Main Event  took place on 25 November 2022 from Porsche Experience Center Franciacorta
The event was a great opportunity to discuss two important topics at the core of the discussion on the future of manufacturing: Creativity, Innovation, and Entrepreneurship & Equality, Diversity, and Inclusion.
The rich program included insightful Keynotes and vibrant panel discussions that tackled these topics from the point of view of Industry, Academia, and of course Young People.
Prof. Marco Taisch – Politecnico di Milano – clearly stated the mission of the  YML Network to be a  powerful tool for young students and professionals worldwide who want to approach a career in the manufacturing sector.
EIT Manufacturing, represented by Ms. Carolina Torregrosa Gallo – Education Programme Manager, introduced its vision of fostering innovation integrating education, innovation, and business creation initiatives.
Mr. Diego Andreis – President of World Manufacturing Foundaation, brought his experience as a young entrepreneur committed to the double transition to a more sustainable, digitalised and open manufacturing sector.
Ms. Valeria Tirelli – CEO & President ai AIDRO – made an insightful keynote speech.
The young representatives of the 8 YML City-Hubs joined the two-panel discussions bringing to the table their perceptions and expectations.
The YML Main Event was held in the side-lines of the World Manufacturing Forum, an initiative by the WM Foundation. The 2022 edition of the WM Forum discussed the pivotal importance of "Redesigning Supply Chains in the New Era of Manufacturing".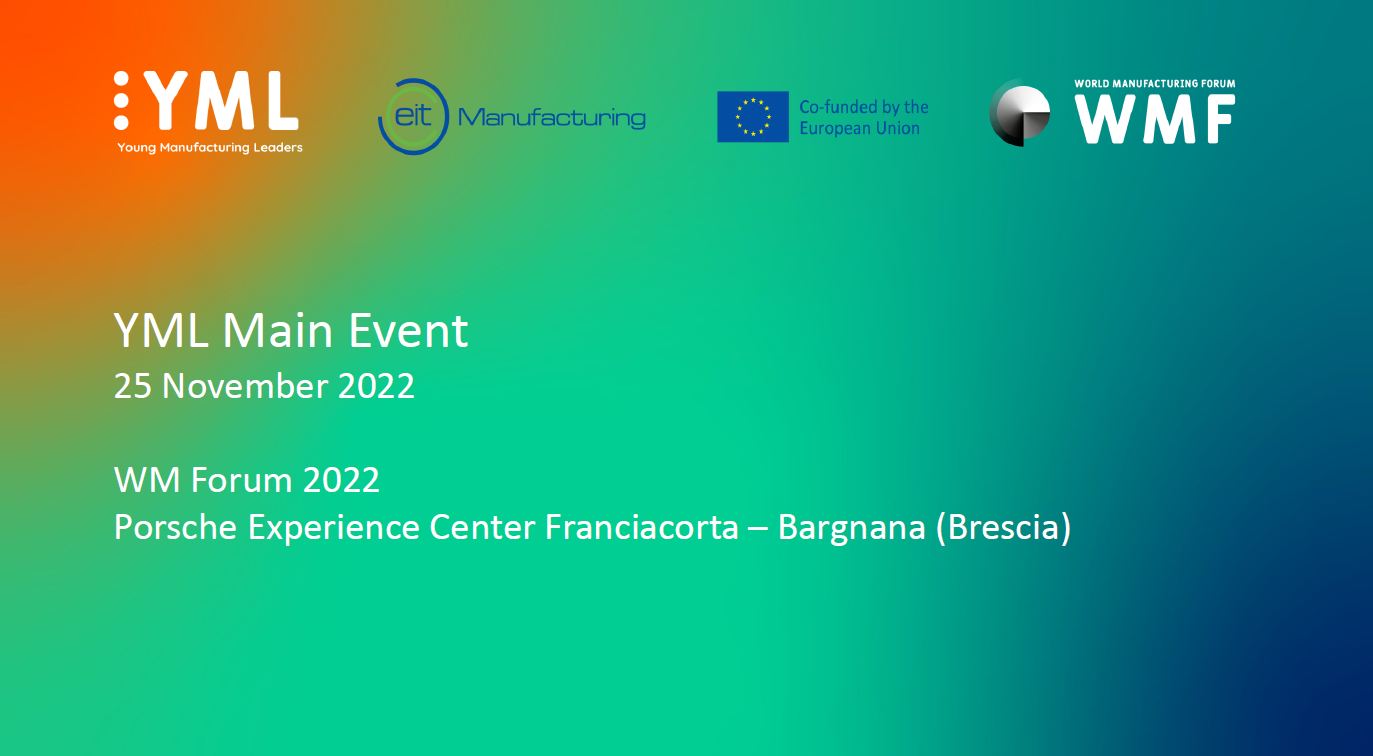 Meet the winners of the YML Contests!
YML Contest for the 2022 World Manufacturing Report
Federica Acerbi, Phd at Politecnico di Milano, awarded the best 5 case studies that were also published in the 2022 World Manufacturing Report Redesigning Supply Chains in the New Era of Manufacturing.
Elena Fernández Calvo R&D Trainee at Schneider Electric for her essay "SMART WAREHOUSE: a place where all data is connected".
Paulo Lopes PhD Student at Chalmers University of Technology for his essay "Data-driven Digital Twins to ensure resilience, sustainability and technological continuity.
Danusuya Pachimuthu student at Politecnico di Milano for her essay "Partnership centered on a combined supply chain strategy to foster Sustainable Manufacturing: the case study of a on-demand Micro-factory".
Loïc Ronin student at Politecnico di Milano for his essay "Biofinery supply chain and biomass/bio waste vaporization: the case of polyhydroxyalkanoates".
Luca Torelli EMEA Supply Chain Transformation Project Manager at EssilorLuxottica for his essay "Redesign an Integrated, Sustainable and Digital Supply Chain to enhance competitiveness: EssilorLuxottica Case Study".
YML Sustainable Manufacturing Innovation Contest – LCA Across Europe
Lucie Hlavůňková, Student at Czech Technical University in Prague awarded the winners of the YML Sustainable Manufacturing Innovation Contest – LCA Across Europe.
Oisín Gavigan Senior R&D Engineer PlasmaBound for his project "Process Life Cycle Analysis of Chemical Propulsion Technologies for Rocket Launches". Watch the video.
Anthony Giampà Project and Process Engineer for his project "EAF – The Future of Steel Production". Watch the Video.
Meet the YML Panelists!
Some YML Network members are the contributing to the Focus Group on Additive Manufacturing technologies for space applications: Alessio Fino student at Politecnico di Torino, Evan Winterlich Engineer at I-Form and Oìsin Gavigan Engineer at PlasmaBound.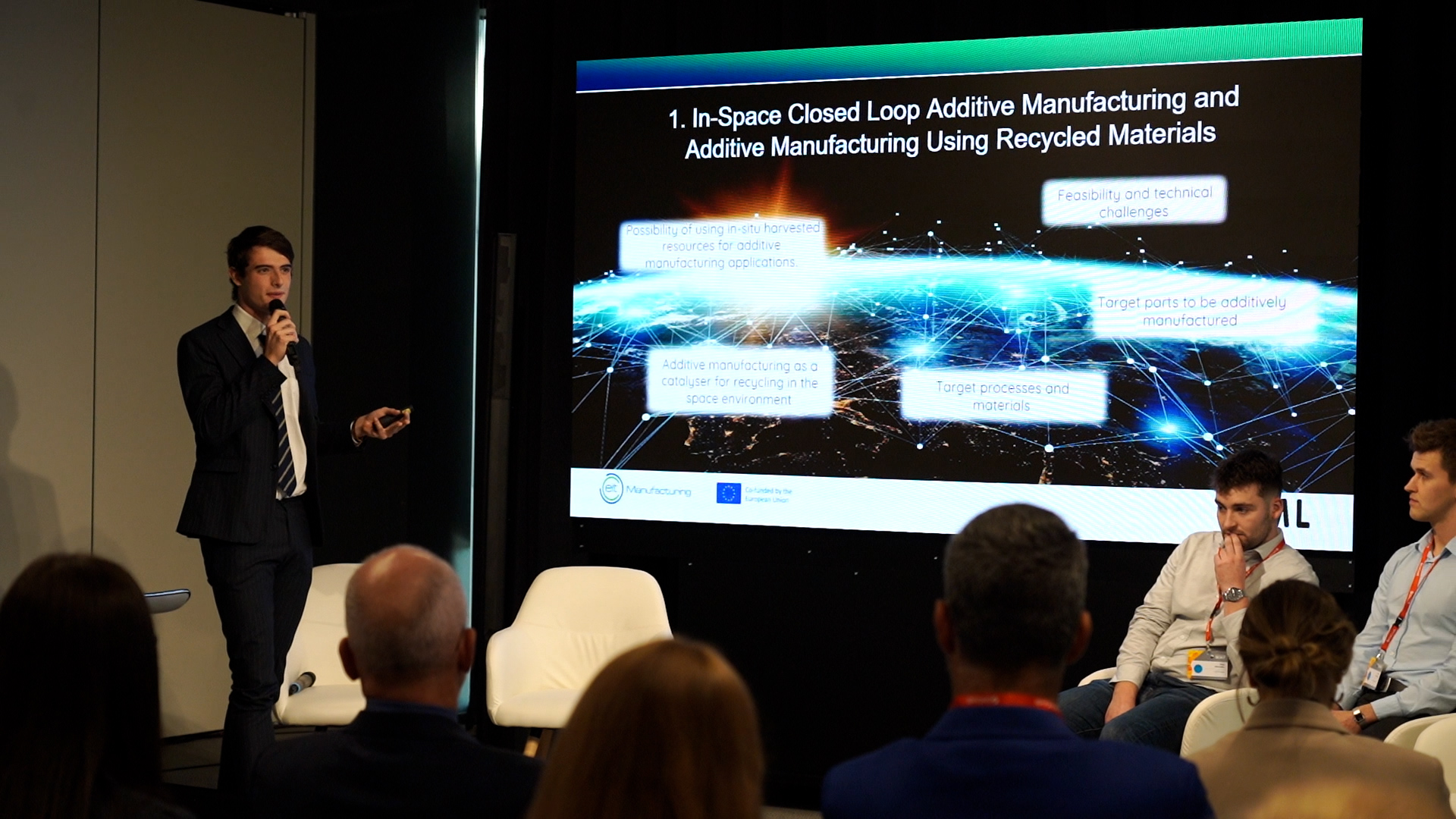 Roundtable the Future is Now: Becoming a Manufacturing Changemaker
Silvia Mozzi: Education Developer, EIT Manufacturing.
Anna Girardello: Student of the EIT Manufacturing Master School.
Clarissa Gonzalez Phd Candidate at Chalmers University Engineering without borders.
Greta Braun: PhD student, Chalmers University of Technology and involved in the Deep Tech Talent Initiative.
Leonor Ramos do Bem Cónego: Research fellow, Faculty of Engineering of University of Porto and coordinator of the Shaping4youth project.